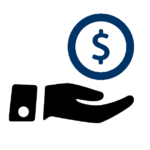 What percentage should I give an investor who wants to fund my company? How is my business going to be divided in a divorce? How much will my bank lend me for my business? How much should I sell my business for?
A Business Valuation, or appraisal, can help you answer these questions and give you the ability to make an informed decision about your future plans.
These questions are routinely asked as a part of starting up or exiting your business, selling your business or buying someone else's, passing your business to your children, separating from either your spouse or your business partner, or in the middle of a lawsuit.
The Morrison Firm follows a systematic approach to valuations which includes a comprehensive review and analysis of relevant information and industry data, and face-to-face interviews with key individuals. We strive to go beyond your current needs and can also offer specific strategies and methods to legally increase and decrease value where desired.
We have the experience necessary to provide a professional, efficient, informative and realistic appraisal of your business. All of our valuations meet IRS standards and are performed by a qualified expert.
Business Valuation Services Include
Estate & Gift Tax planning and preparation
Minority interest appraisals
Blockage discount appraisals
Family limited partnership and LLC valuations
Healthcare industry valuations
Mergers & Acquisitions
Succession Planning
Purchase price allocations, including goodwill
Stock Options
Transaction due diligence
Recapitalizations
Financing and leveraged buyouts
Buy-sell agreements and negotiation support
Other Litigation Support Services Include
Bankruptcy

Accounting for a reorganization plan
Analysis of disclosure statements

Business Interruption

Economic calculations
Lost profit analysis
Wrongful death
Personal Injury

Divorce Matters

Forensic Analysis
Property settlements
Tracing and characterizations of property
Tax planning
Hidden assets and wasting of community assets
Professional Consultation
If you are like most of our clients, you would like to TALK WITH someone who will listen, and discuss your issues – not have someone TALK AT you with industry jargon. If you would like to start a conversation about finding real solutions for you and your business please give us a call or click the link below.